Clem's Cardinals Commitment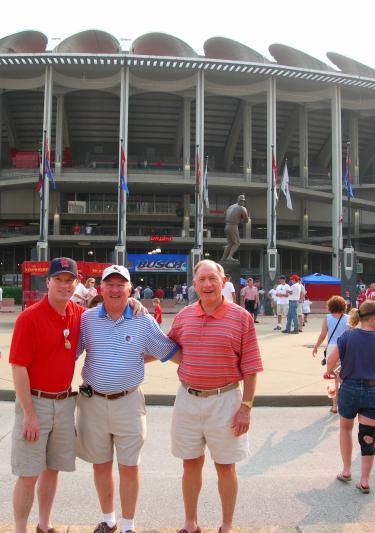 Dad's Three Sons In Final Weeks Of Old Busch Stadium, 2005
Loyalty. It's a quality not unlike kryptonite to bandwagon fans, but one heading the list for Cardinals fans. My dad taught me about loyalty, twice--once on purpose and once inadvertently (I think). The former occurred one lazy summer day in June when I was about 7. My Cards were dead last and sinking faster. Out on our front porch while dad was reading the afternoon paper I whined that I wouldn't be cheering for "those LOSERS" any longer. Dad called me over and sat me on his knee. "Son, it doesn't matter if your boys are at the top or all the way down here," he said, pointing at the best and worst teams in the paper. "They're still YOUR team. You stay with them in good times and bad."
Then, one Sunday not long after that, I was scanning the weekly batting averages and pitching ERAs in the sports section. Dad had made a mark with his Cross pen by each Cardinal hitter and pitcher, plus several other players on different teams. "Why are there marks by all those other guys?" I said. "They used to be Cardinals," he said.
Dad raised three sons after WWII and instilled in each of us qualities that go well beyond following his--our--favorite baseball team, the St Louis Cardinals. But it was a perfect place to start. Though he passed away many years ago, we reunite when we can and honor his life with loyalty to our family--and a certain 11-time World Championship baseball club. How loyal am I to the Cards today? This entire missive was first written on a legal pad in RED ink.