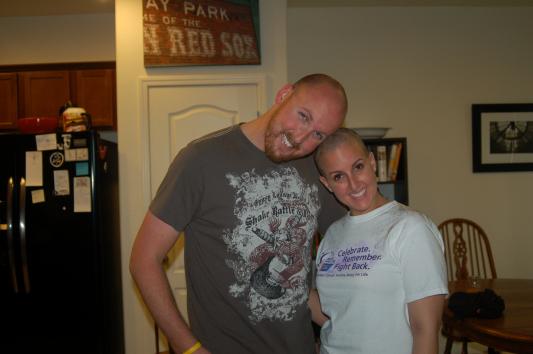 When I began loosing my hair, we had a party and everyone had a turn at the clippers.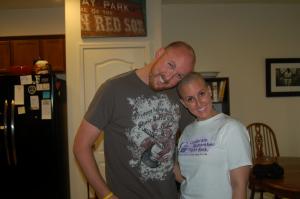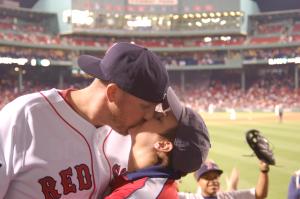 My husband and I have been married for two years, but have been through a lifetime of experiences. We were married in July of 2010 and 4 months later, almost to the day, I was diagnosed with stage 2 Hodgkin's Lymphoma. While our friends were choosing baby names and planning for their futures, we were taking it day by day. He was by my side through thick and thin. He sat with me at chemo during my infusions. He was my strength when I was weak. He stood by my side through it all. After treatment, I went through radiation, and the day after I finished, we flew to New York for a celebratory vacation. Our main reason for visiting the east coast, however, was to go to Boston. We took a train to Boston and we enjoyed my first game at Fenway Park on our one-year wedding anniversary. It was more than just a game that day, it was the culmination of our journey of our first year together as husband and wife. The end of our first crazy year, and the beginning of a much better, much healthier, second year together. I can happily say, I am in remission!
My husband has been a fan since he was 14, when he first visited Fenway. His first visit was bittersweet. In September of 1997, his mother passed away of cancer. Rather than seeing his boys at home depressed, his father told he and his brother they were going to take a trip that coming summer. They waited until the baseball schedule was announced, then took some time and planned a road trip together. They built an amazing memory together by taking the summer and going on an adventure of a lifetime that most adults can only dream of. They saw a game at every major league baseball stadium. They have wonderful memories of bonding over America's favorite past time, baseball. From the moment he stepped into Fenway, he was in love.
Today, we watch every game that is aired on the west coast together, yelling and cheering at each play. Winning this shirt would mean so much to him. If anyone deserves this amazing piece of Red Sox history, it is the love of my life!